Become a Coach
---


Are you thinking about coaching for the first time? Read more about The Basics of coaching and then learn to run your first practice with Get Coaching!, our free online tutorials!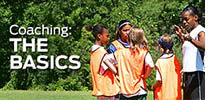 The National Coaching Certification Program (NCCP) has workshops for all types of coaches - whether you're thinking about coaching your child's community team or you're already the head coach of a national team. Watch the video below and discover how NCCP gives you the tools to succeed, both in coaching and in life.

Go to the Coach Training page and you're only 5 clicks away from your future as an NCCP trained coach!